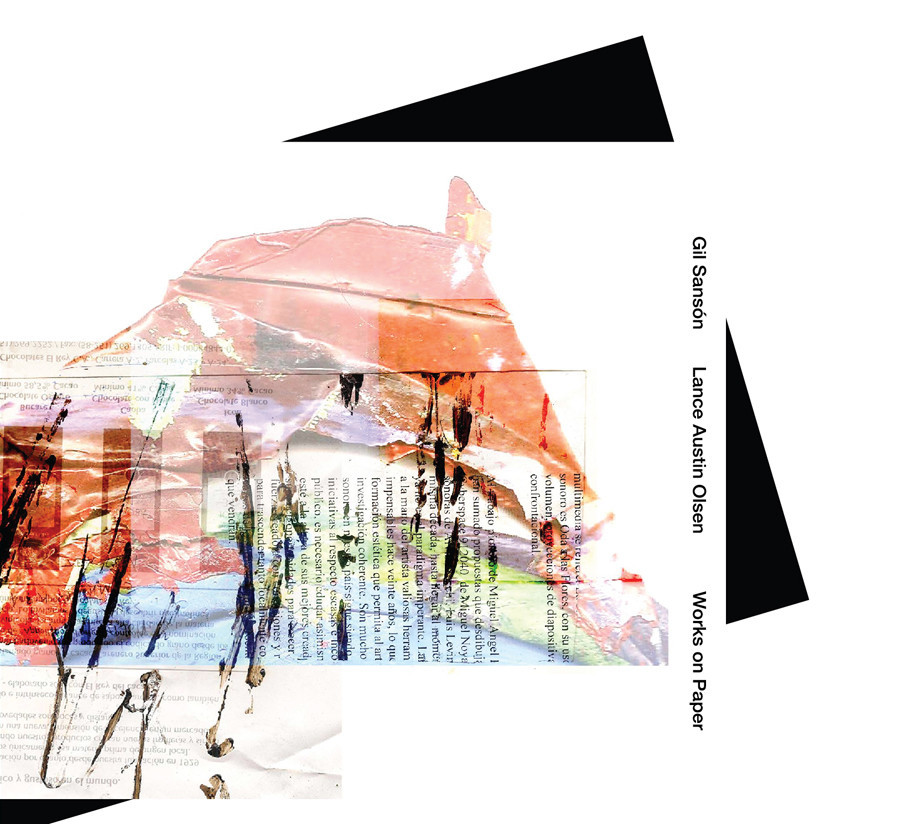 Venezuelan-based composer/artist Gil Sansón and Canadian-based composer/painter Lance Austin Olsen began to work closely together via long distance in 2014. Their collaboration initially began when Olsen painted the CD cover of Sansón's release 'Immanence, A Life' (Makam 003) in 2015. Sharing a similar aesthetic in art and music with deep respect and understanding of each other's work, the two soon started to make music in collaboration through realizations of each other's graphic scores or paintings.
Their first collaborative piece 'A Meditation on the History of Painting (2017)' was published as one of the four tracks of Olsen's notable 2018 release 'Dark Heart' on Another Timbre label. Their collaborative relationship has been rapidly flourishing and deepened with intensity since then. Subsequently, Sansón and Olsen recorded four new collaboration pieces in 2017-2018: two variations of the interpretation of Olsen's painting/graphic score Pra Mim (2016) by Sansón; and two variations of the interpretation of Sansón's graphic score Meditations (2017) by Olsen. This double CD 'Works on Paper' (elsewhere 006-2) contains these four pieces on two discs in nonchronological order.
Sansón said, "At some level, I find no distinction between painting and sound making. The processes are similar in essence and they seem to come from the same place. In the case of Lance's paintings, I find a great example of this. He is able to switch mediums and combine them as if there were no actual distinction. I believe the idea that you can make music that is both radically modern without sacrificing the idea of beauty, which to me remains essential and grounds me in the centuries-old tradition of Western classical music, so dear to me since I was a child."
Their realizations are exquisitely layered collages of sparse sounds of musical instruments, objects, electronics, field recordings, voices, and fragments of their past compositions and early classical music as samples, creating an open, profound expansion of the horizon of the music. The intense, vibrant raw energy and graceful beauty immanent in both artists' pieces are organically integrated into one whole album, forming an epic arch that connects the inner worlds of the two artists poignantly yet meditatively.
The double CD is a limited edition of 500. Besides CD format, digital HD FLAC 24/96 files are available on the label's website, as well as CDs and lossless files on Bandcamp. (We accept CD preorders on both sites.)
(Release date: January 29, 2019)
FACTS
Lance Austin Olsen (born 1943, London, UK) has represented Canada in a number of international biennials with his large-scale painting and drawings, which have been shown extensively in Canada and Europe. His working method is uniform across all of his mediums: a surface is endlessly reworked, with each subsequent piece forming a record or narrative of ongoing discovery. Often in recordings, sections of completed works are folded into new works in the same way that fragments of older paintings and drawings can be added into new paintings as a collaged element. Through this process, or matrix, the viewer experiences an inextricable link between the activity of producing the work as well as the sense that they are seeing but one element in a lifelong pursuit.
Olsen began working with sound in 1997 when he met the young artist Jamie Drouin, with whom he has continued to collaborate, releasing limited edition small run albums on their label Infrequency. Through this small label many contacts have been made with other musicians and composers that have formed alliances and new improvising colleagues, and in particular Gil Sansón.
Olsen started painting at the age of 15, when he entered London's Camberwell Art School, studying under well-known contemporary artists Frank Auerbach, Euan Uglow and R.B. Kitaj. In 1968, Olsen emigrated from the UK to Canada, making his home in Victoria, BC, where he still resides. A constant creative flow emanates from Lance as he bounces back and forth between his two passions, art and music, one medium often influencing the other.
Gil Sansón (born 1970) is a Caracas-based self-taught composer whose musical origins are in rock, avant rock, classical music, contemporary music and electroacoustic improvisation. He is non-dogmatic, philosophically inclined, open to cross bridges between disciplines, historically conscious and works well with others. His music is not governed by dialectics and shies away from rhetoric or representation, narrative concerns or virtuoso playing. He is a music student and hopes to remain so for the rest of his life.
TRACK INFO
CD 1: Gil Sansón (realized and recorded in Caracas, Venezuela, 2017-2018)
1. Pra Mim #2 - Works on Paper (Lance Austin Olsen, 2016) 36:26
2. Pra Mim #1 - Fail Better (Lance Austin Olsen, 2016) 26:14 
CD 2: Lance Austin Olsen (realized and recorded in Victoria BC, Canada, 2017-2018)
1. Meditations #3 (Gil Sansón, 2017) 28:30
2. Meditations #2 (Gil Sansón, 2017) 26:10
CREDITS
CD1-01
Pra Mim #2 - Works on Paper
Gil Sansón (acoustic guitar, melodica, violoncello, electronics, objects, field recordings), A. F. Jones (spoken voice). Samples include: excerpts from Sansón's Untitled (for Antoine Beuger) and Untitled (for Annmarie Mattioli), performed by Dante Boon (piano); excerpts from Antoine Beuger's Monodies pour Mallarmé, performed by Anna Rosa Rodriguez (soprano voice) and Gil Sansón (melodica)
CD1-02
Pra Mim #1 - Fail Better
Gil Sansón (voice, unplugged and plugged electric guitar, melodica, objects, electronics, field recordings)
CD2-01
Meditations #3
Lance Austin Olsen (guitar, shruti box, amplified objects). Samples include found wax cylinder recording and excerpts from Lance Austin Olsen's work Craig's Stroke performed by John Luna (voice) and Debora Alanna (organ)
CD2-02
Meditations #2
Lance Austin Olsen (guitar, amplified objects)

mastered by Taku Unami
cover graphic score Meditations by Gil Sansón
inside graphic scores Pra Mim by Lance Austin Olsen (left) and Meditations by Gil Sansón (right)
produced and designed by Yuko Zama
p+c 2019 elsewhere music
HP: www.elsewheremusic.net