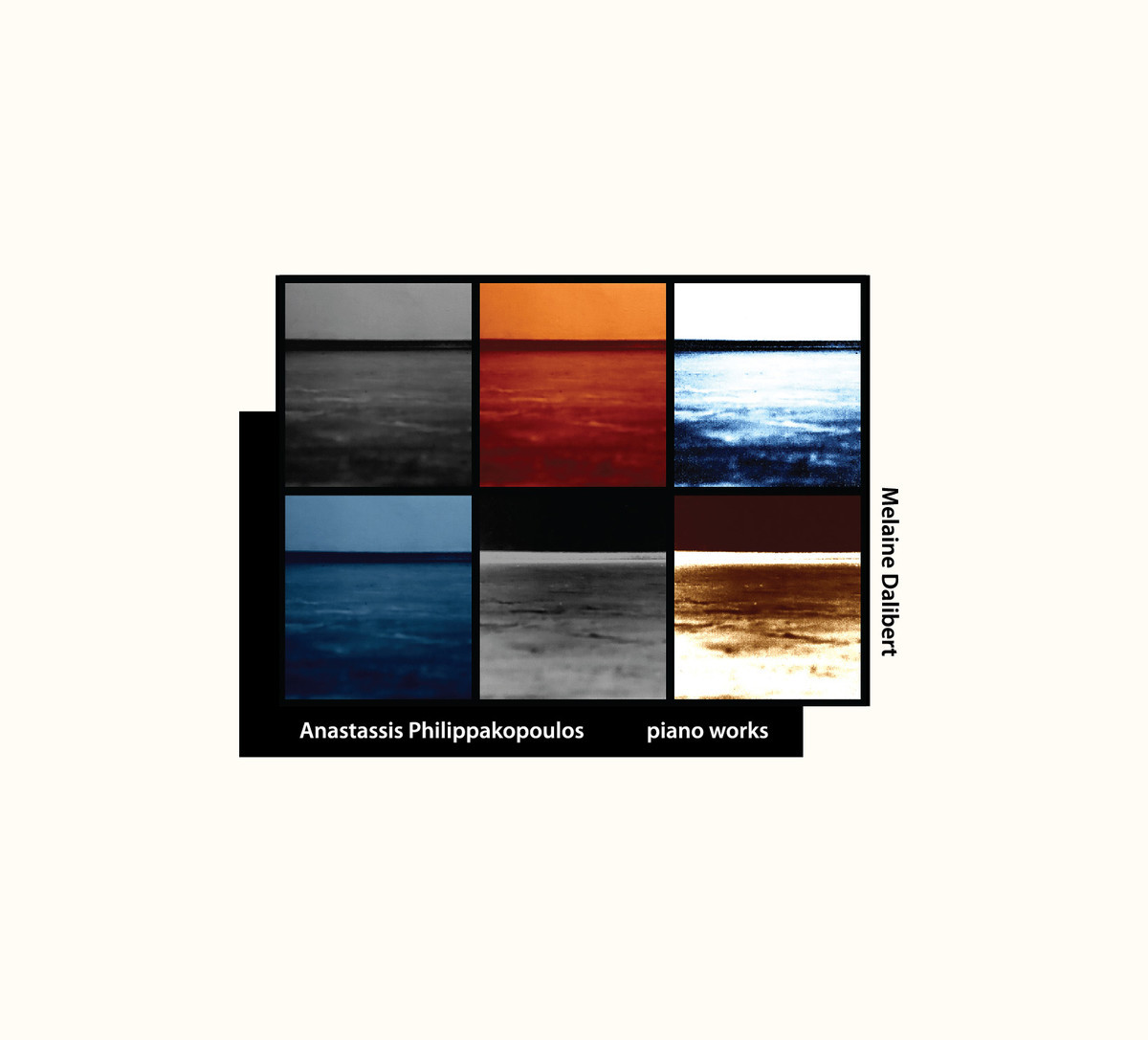 Greek composer Anastassis Philippakopoulos has been a member of the Wandelweiser composers collective since 2003. When examining post-Cage 21st-century classical music, there was a transition in compositional styles from decomposition to recomposition of the new tonal music deeply associated with each composer's individuality. Philippakopoulos' work is one of the most intense forms of this style: a unique blend of the icy, sharp edges of minimalism, the warm colors of modern romanticism, and the introspective depth of Zen.
In Philippakopoulos' piano works, each tone is closely connected with the previous and the subsequent tones via long resonances, forming a simple yet poignant melody that contains a magnetic power to draw the listener's ears. The intensity of a single tone of his piano pieces often evokes a beautiful stone, organically formed over the course of a very long time. In fact, Philippakopoulos takes several months to a year to compose one short 2-4 minute piece.
On this album, Philippakopoulos' twelve solo piano pieces (composed from 2005-2018) are performed by a rising French composer/pianist Melaine Dalibert, who is known for a unique algorithmic compositional style as well as his interpretations of works by Giuliano D'Angiolini, Tom Johnson, Peter Garland, and many others. Here Dalibert realized the transient, meditative beauty of Philippakopoulos' piano works by inducing rich harmonics in the tranquil afterglows mysteriously tinged with shadows, brilliantly conveying the immense and profound world of Philippakopoulos' music narratively and poetically.
Melaine Dalibert will perform some of these pieces at two CD release concerts in NYC in February 2020:
Thursday, February 13: Areté Venue and Gallery, Brooklyn (7:30-8:30 PM)
Friday, February 14: Daniel Goode's Loft, SoHo (8:00 PM)
(Release date: February 14, 2020) 
 
FACTS​
Composer Anastassis Philippakopoulos was born in 1969 in France. Between 1989 and 1994 he studied composition at the University of Arts (Universitaet der Kuenste) in Berlin with W. Szalonek and F.M. Olbrisch. Since 2003 he is a member of the Wandelweiser composers collective. In 2005 his first CD "solo pieces" was released on Edition Wandelweiser Records (EWR).
His music has been performed in Europe and the US by musicians including conductors Mark Menzies with the Calarts String Orchestra, Alexandre Myrat with the TSSO and the Camerata Athens, flutists Antoine Beuger, Manuel Zurria, Wilfrido Terrazas, Katrin Zenz, Ruth Molins, Natalia Gerakis and Christine Tavolacci, oboists Kathy Pisaro and Kostas Tiliakos, clarinetists Juerg Frey, William Powell, Germaine Sijstermans and Yannis Samprovalakis, guitarist Denis Sorokin, pianists John McAlpine, Melaine Dalibert, Guy Vandromme, Teodora Stepancic, Erato Alakiozidou, R. Andrew Lee, Panagiotis Krabis, Mark So and Manfred Werder, organist Eva-Maria Houben, singer Irene Kurka and others.
In 2012 he visited California Institute of the Arts in Los Angeles as an invited artist. He presented his music in lectures and concerts together with composers Michael Pisaro and Michael Jon Fink. In 2014 his CD "songs and piano pieces" was released on EWR. 
Melaine Dalibert (born 1979), a French composer/pianist, has been increasingly recognized for his compositional piano works as well as his interpretations of works by Gérard Pesson, Giuliano D'Angiolini, Tom Johnson, Peter Garland, and many others. Trained as a classical pianist in Rennes (where he teaches now), Dalibert studied a large repertoire of contemporary composers' works at the Paris Conservatories. Being involved with experimental music at his young age, Dalibert found a way to compose music through mathematical concepts.
Fascinated by natural phenomena which are both expected and unpredictable, and also inspired by the work of the Hungarian-born French media artist Véra Molnar, Dalibert has developed his own algorithmic procedures of composition which contain the notion of stretched time evoking Morton Feldman, minimal and introspective, adopting a unique concept of fractal series. His piano music has been released on four CD recordings to date: Quatre pièces pour piano, self-released in 2015, Ressac (2017) on Another Timbre, Musique pour le lever du jour (2018) and Cheminant (2019) on Elsewhere Music.
His creations have been radio transmitted (France Musique, BBC, RAI, KEXP, RTBF) and played in many French and foreign festivals, museums and contemporary art centers. 
TRACK INFO
Anastassis Philippakopoulos - piano works (2005-2018)
1. piano piece (2013)       2:32
2. piano piece (2014)       3:07
3. piano piece (2015)       3:32
4. piano piece (2016)       2:52
5. piano piece (2017)       3:07
6. piano piece (2018a)      3:27
7. piano piece (2018b)      3:06
8. five piano pieces - 1      2:39
9. five piano pieces - 2      3:05
10. five piano pieces - 3    2:26
11. five piano pieces - 4    2:31
12. five piano pieces - 5    2:19

CREDITS
compositions by Anastassis Philippakopoulos
piano by Melaine Dalibert
recorded by Herve Jegaden and David Launay at HD Studio in Saint Maugan, Britain, France on July 24, 2019
mixed and mastered by Taku Unami
cover art 'sea' by Denis Sorokin
inside photograph by Anastassis Philippakopoulos
design by Yuko Zama
produced by Yuko Zama
p+c 2020 elsewhere music
www.elsewheremusic.net
Anastassis Philippakopoulos' music is published by Edition Wandelweiser.
(Thanks to David Sylvian for his valuable advice at the final mixing stage as always.)

(CD preorder and the digital album are now available on Bandcamp and the label's website.)