2018 has been quite a busy year for me with so much producing work for my newly launched elsewhere label, in addition to the design works for Erstwhile Records and Gravity Wave, so I barely had a chance to listen to this year's releases on other labels besides our own. I must say, I love all the elsewhere titles which I have listened to numerous times during each production and these titles are definitely my favorite releases of 2018. But I am also looking forward to listening to other labels' releases one by one, perhaps later next year when I have more time.
Meanwhile, I made a list of the concerts I went to in the NYC area this year and was particularly impressed with. Among them, there were eight performances that were most memorable, which you can see under the long list of 22. If I had to pick one performance from the list as my best live music experience of 2018, I would pick Seth Parker Woods' premiere performance of Jürg Frey's 'Sounds Sing Themselves' (2018) at ARETÉ, NYC on December 13. It was the quietest and subtlest yet the most profound and moving music that I heard this year.
There were some other exciting concerts that I was looking forward to attending but could not make it due to my busy work schedule, etc., which I really regret, but I hope to have a chance to hear those musicians again in the coming years.
22 Memorable Live Performances of 2018
(chronological order)
Budapest Festival Orchestra under Iván Fischer with Dénes Várjon (piano) (David Geffen Hall, NYC 1/14)
Bach - Orchestral Suite No. 2 in B minor, BWV 1067 / Beethoven - Piano Concerto No. 3 in C minor, Op. 37 / Rachmaninoff - Symphony No. 2 in E minor, Op. 27
The Cleveland Orchestra under Franz Welser-Möst (Carnegie Hall, NYC 1/23, 1/24)
Johannes Maria Staud - Stromab (NY Premiere, co-commissioned by Carnegie Hall) / Mahler - Symphony No. 9 / Haydn - The Seasons
Melaine Dalibert piano recital (Daniel Goode's Loft, NYC 1/27)
Peter Garland - The Days Run Away (1971) / Michael Vincent Waller - Bounding (2017), Cyclone (2018), For Pauline (2016), Roman (2017), Return from L.A. (2018) / Melaine Dalibert - Musique pour le lever du jour (2017)
Ryoko Akama + Anne-F Jacques (Experimental Intermedia Foundation, NYC 1/29)
Stephen Hough piano recital (Carnegie Hall, NYC 1/30)
Debussy "Clair de lune" from Suite bergamasque / Images, Book II / Images, Book I / "La terrasse des audiences du clair de lune" from Preludes, Book II
Schumann - Fantasy in C Major
Beethoven - Piano Sonata No. 23 in F Minor, Op. 57, "Appassionata"
Mitsuko Uchida piano recital (Carnegie Hall, NYC 2/26)
ALL-SCHUBERT PROGRAM: Piano Sonata in C Minor, D. 958 (No. 21) / Piano Sonata in A Major, D. 664 (No. 13) / Piano Sonata in G Major, D. 894 (No. 18)
Boston Symphony Orchestra under Andris Nelsons, with Jean-Yves Thibaudet (piano) (Carnegie Hall, NYC 4/11)
Bernstein - Symphony No. 2, "The Age of Anxiety"
Schostakovich - Symphony No. 4
Seth Parker Woods (cello) with Ashleigh Gordon (viola) (The Italian Academy, NYC 4/18)
Giacinto Scelsi - Maknongan (1976) / Claudio Gabriele - PNOM (2005) / Matthias Pintscher - Janusgesicht (2001) / Giacinto Scelsi - Triphon (1957)
London Symphony Orchestra under Simon Rattle (David Geffen Hall, NYC 5/4, 5/7)
Mahler - Symphony No. 9 / Mahler - Symphony No. 10 (completed by Deryck Cooke)
Bavarian Radio Symphony Orchestra under Mariss Jansons (Carnegie Hall, NYC 5/5)
Mahler - Symphony No. 7
Vanessa Rossetto (Issue Project Room, NYC 5/12)
The Dirt (accompanied by a short film by Matthew Revert)
The MET Orchestra under Mirga Gražinytė-Tyla, with Anita Rachvelishvili (mezzo-soprano) (Carnegie Hall, NYC 5/18)
Debussy - Prélude à l'après-midi d'un faune / Mussorgsky - Songs and Dances of Death (orch. Shostakovich) / Tchaikovsky - Symphony No. 4
Reinier van Houdt piano recital (Spectrum, NYC 6/14)
Michael Pisaro - Green Hour, Grey Future (2015)
International Contemporary Ensemble / Greg Stuart (percussions) (David Rubenstein Atrium, NYC 8/9)
Michael Pisaro - A wave and waves (2007)
Bozzini Quartet (Clemens Merkel - violin, Alissa Cheung - violin, Stéphanie Bozzini - viola, Isabelle Bozzini - cello) (DiMenna Center for Classical Music, NYC 8/14)
Cassandra Miller - About Bach (2015), Linda Catlin Smith - Folkestone (1999)
San Francisco Symphony under Michael Tilson Thomas, with Leonidas Kavakos (violin) (Carnegie Hall, NYC 10/4)
ALL-STRAVINSKY PROGRAM: Pétrouchka (1947 version), Violin Concerto, Le sacre du printemps
Keith Rowe: Extended (Glassbox Performance Space, The New School, NYC 10/13)
Improvisation
Stile Antico (Church of St. Mary the Virgin, NYC 10/13)
Elizabeth I, Queen of Muses (William Byrd, John Dowland, John Farmer, Alfonso Ferrabosco the Elder, Orlande de Lassus, Pierre Sandrin, Thomas Tallis, John Taverner, Thomas Weelkes, John Wilbye, Adrian Willaert)
Meridian (Tim Feeney/Sarah Hennies/Greg Stuart) (Project-Q, NYC 10/27)
Improvisation
Mariinsky Orchestra under Valery Gergiev (Carnegie Hall, NYC 10/31)
Tchaikovsky - The Nutcracker (concert performance)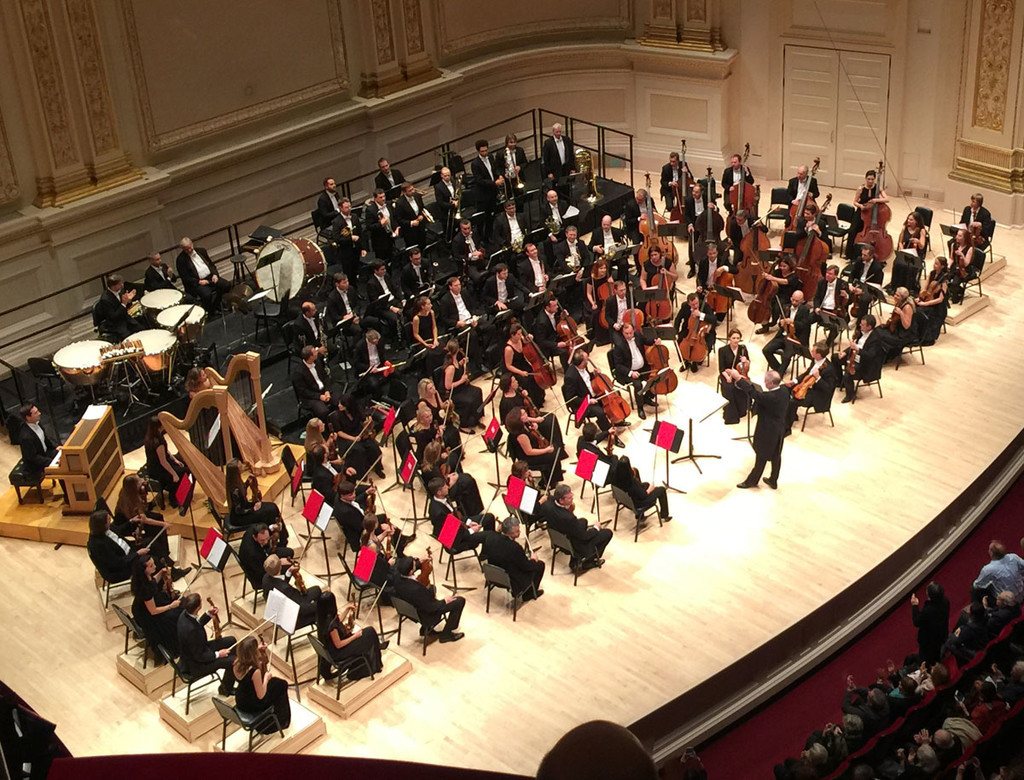 Seth Parker Woods cello solo concert (ARETÉ, NYC 12/13)
Giacinto Scelsi - Maknongan (1976) for any bass instrument / Oliver Thurley - Khepri (2017/18) for solo cello / Nathalie Joachim - Dam Mwen Yo (2017) / Jürg Frey - Sounds Sing Themselves (2018) WP / Monty Adkins - Winter Tendrils (2015) for cello and tape / Giacinto Scelsi - Triphon: Jeunesse, Energie (1975)
OTHER (Live Streaming)
West-Eastern Divan Orchestra under Daniel Barenboim, with Miriam Manasherov (viola) and (cello) (Carnegie Hall, NYC 11/8)
R. Strauss - Don Quixote / Tchaikovsky - Symphony No. 5
8 Most Memorable Performances of 2018
(chronological order)
Melaine Dalibert - Musique pour le lever du jour (2017) (Daniel Goode's Loft, 1/27)
Mitsuko Uchida: Schubert - Piano Sonata in G Major, D. 894 (No. 18) (Carnegie Hall, 2/26)
London Symphony Orchestra under Simon Rattle: Mahler - Symphony No. 9 (David Geffen Hall, 5/4)
The MET Orchestra under Mirga Gražinytė-Tyla: Tchaikovsky - Symphony No. 4 (Carnegie Hall, 5/18)
International Contemporary Ensemble / Greg Stuart (percussions): Michael Pisaro - A wave and waves (2007) (David Rubenstein Atrium, Lincoln Center, 8/9)
Keith Rowe - Extended (improvisation) (Glassbox Performance Space, The New School, 10/13)
Seth Parker Woods: Jürg Frey - Sounds Sing Themselves (2018) (ARETÉ, 12/13)