Last night, Dutch composer and pianist Dante Boon performed works by John Cage, Eva-Maria Houben, André Cormier, Michael Vincent Waller, Anastassis Philippakopoulos, and Antoine Beuger at Daniel Goode's Loft, NYC.
The program was assembled by Boon, opening with John Cage's 'One' (1987) in the first half of the concert, followed by Cage-influenced works from Wandelweiser composers: Eva-Maria Houben's 'lose verbunden' (2014), André Cormier's 'Métallurgie' (2016), and Michael Vincent Waller's three recent pieces 'For Pauline' (2016), 'for Papa' (2018) and 'Early Night' (2017). For the last half of the concert, Boon performed two world premieres: Anastassis Philippakopoulos's 'piano piece' (2018) and Antoine Beuger's 'traces of eternity: of what is yet to be' (2018). The whole concert was themed with three key words Boon set for the night: "presents" (Cage, Houben), "in memoriams" (Cormier, Waller) and "places to dwell" (Philippakopoulos, Beuger).
The first piece, Cage's 'One', is a chance-composed work for piano, comprising 10 systems of piano chords, varying in dynamics, lasting about ten minutes. Boon played this piece with humbly soft sounds, which seemed to overlap with silences following each chord. The relations between sets of chords were remote as being chance operated, deconstructed into fragments that are liberated from the conventional concept of music, but the way Boon played this piece was somehow harmonious in a sense that the discordance and alienation of each chord brought by chance felt more like natural phenomena, blending into the air of the room. This naturalness was carried into the next piece, Houben's 'lose verbunden', without a break, which was slightly more coherent and pliable than Cage's piece, though the changes between two pieces felt very subtle with Boon's delicate tones, which seemed to connect the two seamlessly. Houben's piece was followed by Cormier's 'Métallurgie', again without a break, which seemed to have slightly more musical structure with subtle gradations of harmony than Houben's. The last three pieces of Waller had more musical structures with chord progressions and melodies, though these musical elements were very subtle, like pale, white-grayish watercolor paintings of Impressionism.
Since the transitions between these pieces were so naturally and seamlessly performed by Boon's quiet piano tones, dotted with similar textures of silence throughout, all five pieces felt like one continuous piece which changed its textures and shades slightly as time passed, like a flow of a river gradually shifting its impression as it moves from one scenery to another. By presenting the chronological transition from Cage's piece (1987) to Waller's (2016-2018), Boon portrayed how the music that was once deconstructed and decomposed by Cage has been gradually moving toward the direction of using more musical sounds in the post-Cage tradition. The more tonal, harmonious music of these recent composers might give similar impressions as Romantic composers, but is actually quite different since it is detached from pre-Cage composers' conventional customs and rules (thanks to Cage). Just like the trees and flowers coming back to life in the bare ground, music is coming back to sound like music.
The last half of the concert began with Anastassis Philippakopoulos's 2018 'piano piece'. If the first half of the night portrayed the transition from decomposition to recomposition of the music, Philippakopoulos's piece can be regarded as a condensed form of the powerful return of the composer's individuality, intensely and uniquely packed with icy, sharp edges of minimalism and rich colors of modern romanticism. It was a very short piece, only four minutes long consisting of 4 or 5 tones, but the world which was unfolded by the nuances of each tone, the transition between tones, and the resulting harmonies emerged from afterglows was incredibly immense and profound, abundant with colors and textures, mysteriously tinged with shadows. Each tone was tightly connected with the subsequent tone via resonance, creating a magnetic power to connect the listener to the music. Listening to this piece made me feel as if my mind were drawn into a small crystal ball in which all the mesmerizing scenes, memories, sensations that the composer had experienced over a long course of time were all condensed.
It felt personal, but at the same time, felt like connecting to the nature, the vast universe as well.
This density made this short piece felt like a much longer piece of 30 or 40 minutes, and was breathtaking to me
The last piece of the night was Antoine Beuger's 2018 piece 'traces of eternity: of what is yet to be'. It is a 288 page score, with each page noted with one or two or three simple sound/chord, and Boon chose 10 pages from the score (pp. 31-40). Each tone, chord and silence between sounds in Beuger's piece felt so natural that they felt like a part of the air surrounding us. After listening to Philippakopoulos's piece which was rivetingly intense and deeply connected to the composer's world, Beuger's piece sounded like freeing the space by opening the door, so everyone in the room - the pianist, the audience, the room noises, the environmental sounds coming from outside the window (and perhaps the composer) - could share a unique sense of time and space (which felt slightly different from the real dimensions) all together. Lost in this unique sense of time in Beuger's piece, I could not tell how many minutes the performance lasted. I remember that it ended when I thought I 'heard' the continuing music in the silence Boon left after the last page he played (later he told me that he was 'reading' the next page in his mind before ending the performance). Boon's silent reading of another page - and how his reading filled the silent room just like the sounds of music - must be a crucial concept of Beuger's composition. Although seemingly similar to Cage's piece in terms of sparse sounds and long silences, Beuger's composition was clearly very different from Cage's, in terms of allowing and connecting everyone and everything surrounding in the room to share the music, instead of music as a purely separate entity disconnected from composers' and/or listener's inner world.
The contrast between Philippakopoulos's piece and Beuger's piece was strikingly portrayed by Boon, though both were similarly calm, one spoke inwardly to the composer's personal world, the other spoke outwardly to openness, both were rendered beautifully via Boon's profound understanding of each composer's work. His program beginning with Cage and progressing to the two most recent pieces from Wandelweiser composers, Philippakopoulos and Beuger, showed us the music's roots , and where they are going today, in different directions, organically and lucidly.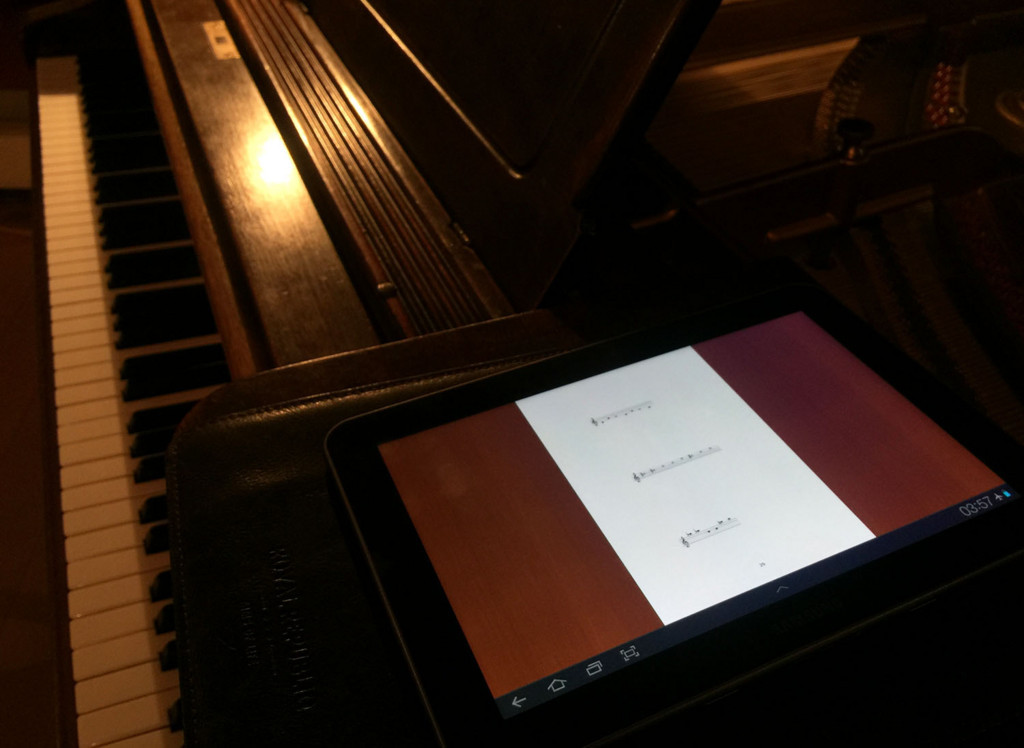 One page of the 288 page score to Antoine Beuger – traces of eternity: of what is yet to be (2018)